Many men and especially many women in Humla have never had the opportunity to go to school to learn the most basic things. Because the cultural context for learning is very important, RIDS-Nepal has developed an Adult Literacy programme that suits the local people we live and work with. It is very encouraging for us to see the hand of a person who never held a pencil or a piece of paper before in their life, slowly write readable letters and numbers. In this programme, RIDS-Nepal puts a special emphasis on teaching the skills of reading and writing through themes which play particularly important roles in the participants daily life and thus are of great interest, such as hygiene, childrens' health, kitchen gardens, nutrition and animal health.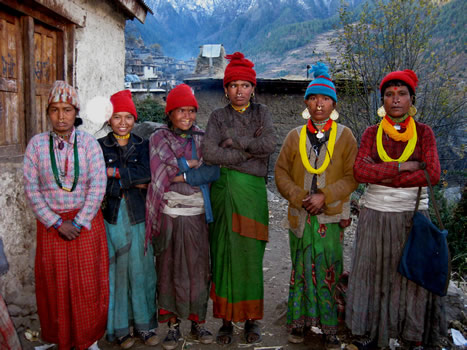 In the evening, after the daily work is done, the adults meet to learn from their facilitator, a local person trained by RIDS-Nepal. 6 times a week in the evening the adults meet for their NFE class 2 hours. The first basic course
RIDS-Nepal Non-Formal Education SP1 (8.87 MB) usually runs for 12 months, depending on the local community's life and working schedule. Its followed by another advanced course
RIDS-Nepal Non-Formal Education SP2 (6.53 MB) for another 12 months.
It is encouraging to see how many women participate and the effort they put into learning, which is a new concept for them.
NFE recently introduced Knitting as a practical skills training.
You better get well prepared for the test, as you want your group to be first. Tests through games, story writing, songs and poems becomes rather interesting and at the end you even get a booklet together, created by us all. And finally when the course is completed you are rewarded with a Course Completion Certificate. School is fun. . .