System Specifications
This system is comprised of the following major components:

Solar Panel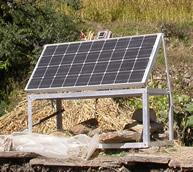 A single, 75W-80W solar PV module. This PV module is mounted on a one-axis seasonable adjustable (from 5°-60° south inclined) aluminum frame on the roof top of the central house in each cluster. The cluster system is a 12 VDc system.








Charge Controller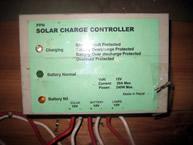 The charge controller's aim is to protect the battery from overcharging (14.4VDC) and too low discharging (12.0 VDC). Most of the charge controllers used are locally manufactured by the RIDS-Nepal spin off company Pico Power Nepal (PPN).







Battery Bank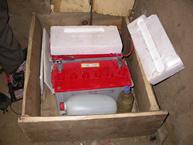 Each cluster battery bank has two 12 VDC flooded lead-acid batteries with a total of 200Ah capacity.








DC Loads
In each household two 12 diode Nichia lamps, with NSPW510DS diodes, and one single, high power, Luxeon diode, WLED lamp are used in each household. Each of these three WLED lamps consumes ~1watt, amounting to a total household power demand of slightly more than 3 watts. All these WLED lamps are locally manufactured by PPN.






Benefits
Solar PV Cluster Systems in Humla
Pamlatum Village
Dhadhaphaya Village